Table of Contents
HIGHLIGHTS
BLOGS – DISCUSSION
GNPHR NEWS
HUMAN RIGHTS VIOLATIONS AND ACTIONS
CONTENT AREAS: ARTICLES and news
Human Rights and Psychology: theory, epistemology, ethics, plans
Human rights in times of Covid19
Crimes against humanity
Human rights education
Academic Freedom / Higher Education
Indigenous people's rights
Climate change / environmental rights and health
Children's Rights / Youth
Mental Health and Human Rights
Processes of decolonising
Women / Family
Refugees / migration / forced migration / Statelessness
REGIONAL NEWS
BIBLIOGRAPHY, PUBLICATIONS, MOVIES
CONFERENCES, EVENTS, EDUCATION and GRANTS 
HIGHLIGHTS
The International Day for the Elimination of Racial Discrimination is observed annually on the day the police in Sharpeville, South Africa, opened fire and killed 69 people at a peaceful demonstration against apartheid "pass laws" in 1960.
"Youth standing up against racism" is the 2021 theme. It engages the public through #FightRacism, to foster a global culture of equality and anti-discrimination and calls on each and every one of us to stand up against racial prejudice and behaviour. Young people massively showed their support at the 2020 Black Lives Matter marches, which drew millions of demonstrators worldwide. On the streets, groundswells of youth – mostly teens and twenty-somethings – came together to protest against racial injustice. On social media, they mobilized participation, calling on their peers to speak out, and to stand up for the equal rights of all. Their activism was all the more remarkable in the context of the COVID-19 pandemic, which saw restrictions on public gatherings in many countries. As the virus began to spread in early 2020, a parallel pandemic was unleashed – of hatred, violence and fear against certain ethnicities and nationalities. It quickly became clear that stark inequities, sometimes rooted in racism, had subjected minorities to a significantly higher risk of infection and death.
COVID-19 has heavily impacted young people, including those from minority backgrounds. Many are now grappling with an increase in racial discrimination, in addition to severe disruptions to their education; diminished employment prospects; and limited ability to participate in public life, which stymies their individual and social empowerment. Being excluded, dehumanised, stereotyped or ignored, has an immense impact on people's lives, self-esteem and development.
GNPHR NEWS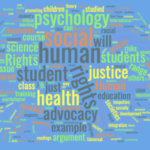 New Blog:  Teaching the Human Rights Foundations for Social Justice Advocacy, by Neal S. Rubin. "…. psychology as a discipline and as a profession holds the promise of responding to these needs with a view to promoting more just societies.  But what will guide us in determining what is just and in creating more socially just societies? Read more
New Resource: Mental Health and Human Rights. GNPHR is collaborating with the Mental Health Human Rights Index (MHHRI) to include their resource on psychology and mental health, with a focus on human rights/mental health and war, disaster, and torture. An informational blog introduced the resource, which is also featured in the content area section Mental Health.
You are invited to contribute to the blog series on GNPHR – with opinion pieces or to the new series  WAYS TO PROMOTE HUMAN RIGHTS – this new blog highlights examples of ways that institutions or associations – educational, research, or associations can promote awareness or education in psychology and human rights. The GNPHR  invites colleagues to send their own experiences of how you or your institutions or organization have worked to promote human rights. Read the first one: https://humanrightspsychology.org/why-a-psychologist-might-want-to-become-a-human-rights-
HUMAN RIGHTS VIOLATIONS AND ACTIONS
Guantanamo
An Open Letter to President Biden About Guantánamo. We write to you as former prisoners of the United States held without charge or trial at the military detention facility at Guantánamo Bay who have written books about our experiences. The New York Review of Books. January 2021.
Will Guantanamo Bay closed? AlJazeera, YouTube.
Defense of Amazon Deforestation Data Earns 2021 AAAS Scientific Freedom and Responsibility Award
Ricardo Galvão, a physicist who lost his position as director of a Brazilian science agency after defending its data on deforestation in the Amazon rainforest, will receive the 2021 Scientific Freedom and Responsibility Award from the American Association for the Advancement of Science.
The annual AAAS Scientific Freedom and Responsibility Award honors scientists who have demonstrated scientific freedom and/or responsibility in particularly challenging circumstances, sometimes at risk to their professional or physical safety. When Brazilian President Jair Bolsonaro attacked the legitimacy of a report highlighting a dramatic increase in Amazon deforestation, Galvão stood behind the figures, a decision that cost him his job.
TOPICS: ARTICLES and NEWS
Human Rights and Psychology: theory, epistemology, ethics, plans
Moving Human Rights to the Forefront of Psychology. The final report of the APA task force on Human Rights. February 2021.  In July 2016, the American Psychological Association (APA) Board of Directors appointed a task force to advise the organization in its work to promote and protect human rights (American Psychological Association, 2016a). This was sparked by the Independent Review (addressed in section 4 of the report) but reflected a long-standing interest in expanding APA's work on human rights. The Task Force on Human Rights members were selected for their expertise in human rights, their engagement on issues that demonstrate a relationship between psychology and human rights, and their knowledge of APA's programs and constituencies.
The Task Force was charged with three overarching tasks : 1. To provide a definition of human rights as related to psychology that would both clarify the relationship of human rights to APA's mission and relate it to concepts that have historically guided APA (human welfare, social and ethical responsibility, public interest and social justice);  2. To review APA's recent and ongoing human rights activities and, in particular, to analyze recent comments and recommendations regarding human rights that had been solicited from APA boards and committees; and,  3. To provide recommendations for ensuring APA's ongoing and visible commitment to human rights with consideration given to potentially interested internal and external constituencies who could be involved in APA's programmatic activities going forward.
Human Rights and Social Justice. A Special Issue of Psynopsis focused on Human Rights and Social Justice from the CPA. Canada's Psychology Magazine Psynopsis Volume 42 Issue 4 .
Can Human Rights bring Social Justice? 12 essays. Doutje Lettinga and Lars van Troost, Eds. Amnesty International Netherlands, 2015.
'Many years ago the philosopher Friedrich Hayek wrote that it took him a decade to acknowledge  that there is no such thing as social justice. It is just a mirage (Hayek 1978: 57). Nonetheless, almost forty years later social justice is one of the 'buzz words' in the human rights arena. This does not mean that by now it is a neatly defined, uncontested concept. Actually, social justice means different things even to people with relatively similar backgrounds, including the contributors to this essay volume. Nonetheless, often the term covers "the relative distribution of rights, opportunities and resources within a given society, and whether it deserves to be regarded as fair and just" (Cramme & Diamond 2009: 3). Generally, that's how we have used the term in this volume of essays.'
Human rights in times of Covid19
Declare racism a public health emergency. It would be more than just a symbolic gesture. Abdullah Shihipar, Brown University school of public health. NY Times, 7 March 2021. While Black and Latinx people make up only 13 and 18 percent of the U.S. population respectively, as of November they represent more than 50 percent of the country's Covid-19 hospitalizations. In Los Angeles County, deaths among Latinx people have increased more than 1,000 percent since November, nearly triple the rate for white residents. Native Americans have been nearly twice as likely as white people to die from Covid-19. The virus has killed a disproportionate number of Filipino nurses. To bring desperately needed relief to the communities of color that have been ravaged by the pandemic because of the effects of structural racism, the Department of Health and Human Services should declare racism a public health emergency.
School mental health: integrating young people's voices to shift the paradigm. Mina Fazel, The Lancet Child and Adolescent Health, March 2021, Volume 5 Number 3.
Deteriorating patterns of pupil mental health are emerging across the globe, exacerbated by the additional pressures of the COVID-19 pandemic, which is affecting access to educational and employment opportunities for young populations. Finding ways to support pupils in their schools given the myriad difficulties that they face requires clearly conceptualised public health models built on a solid scientific basis.
Crimes against humanity
'Their goal is to destroy everyone': Uighur camp detainees allege systematic rape. Matthew Hill, David Campanale and Joel Gunter, BBC News (February 2021). Women in China's "re-education" camps for Uighurs have been systematically raped, sexually abused, and tortured, according to detailed new accounts obtained by the BBC. You may find some of the details in this story distressing.
Streets of blood in Myanmar town as UN fears 'crimes against humanity'. Helen Regan, CNN (March 12, 2021). The UN special rapporteur for human rights in Myanmar, Tom Andrews, said in a statement to the UN Human Rights Council in Geneva that a "growing body of reporting" indicates the junta's security forces are committing "acts of murder, imprisonment, persecution and other crimes as part of a coordinated campaign, directed against a civilian population, in a widespread and systematic manner, with the knowledge of the junta's leadership."
Human rights education
Have Black Lives Matter protests changed the curriculum? Nathan M Greenfield. University World News (27 February 2021). Professor Alexandra Rutherford, who teaches the history of psychology at York University in Toronto, Ontario, totally revamped both her graduate and undergraduate courses in the history of psychology. Though her courses had always included information that wasn't part of the 'Great White Men' history of psychology, BLM protests prompted her to revamp the courses. "I shifted the course so that it highlighted psychology's historical participation in scientific racism and its role in colonialism," she said. To engage her students in re-imagining the history of psychology, she adopted a technique developed by Critical Race Theorists called 'counter-storying', that is, telling history from a perspective other than the majoritarian, standard story, which is told from the point of view of white privilege.
How should universities approach decolonisation? Anna McKie, Times Higher Education (November 26, 2020). The movement to 'decolonise' university curricula has leaped into the political and educational mainstream in the wake of George Floyd's death, dividing opinion on campus and beyond. Anna McKie examines how scholars are handling difficult discussions and where the agenda goes next.
Human Rights Education on YouTube.
Academic Freedom / Higher Education
Prestigious Istanbul University Fights Erdogan's Reach. Students and professors at Bogazici University, one of Turkey's most well-known institutions, are protesting President Recep Tayyip Erdogan's appointment of a new rector. NY Times, February 2021.
Why universities are key to tackling inequality. Two influential books suggest that universities contribute to societal divisions. In fact, they are essential to bridging divides. Nature, Vol. 590, 364, (February 2021). PDF version   In The Tyranny of Merit (2020), philosopher Michael Sandel says that the United States, and the world, has not been served well by the US system, in which graduates from a small number of highly selective universities dominate the top of business and public life.  A parallel argument is advanced by David Goodhart at Policy Exchange, a think tank in London that is close to the present Conservative UK government. In Head Hand Heart (2020), he says that the "cognitive class" — his name for people who hold many academic qualifications — has reduced the pay and status of other skilled jobs, such as the caring professions, where learning often also takes place outside universities. Both books imply that universities are also worsening societal divisions.
Indigenous people's rights
Protecting and Defending our People: Nakni tushka anowa (The Warrior's Path) Final Report. APA Division 45 Warrior's Path Presidential Task Force (2020) Journal of indigenous research, Vol. 9 (2021), Art. 8. This publication is lovingly dedicated to the memory of Dr. Jean Lau Chin.  How can we enhance the relevance and efficacy of psychology by integrating Indigenous wisdom and knowledge and moving towards a decolonized psychology?
Indigenous peoples face rise in rights abuses during pandemic, report finds. Patrick Greenfield, The Guardian (18 February 2021) Increasing land grabs endangering forest communities and wildlife as governments expand mining and agriculture to combat economic impact of Covid.
Climate change / Environment
Climate change as a business and human rights issue. Stephanie Triefus. The Netherlands Network for Human Rights Research (NNHRR)  (11 March 2021).
Climate change is increasingly understood as an issue that entails responsibility from all organs of society, including businesses. Law is one of the tools being picked up by activists and affected communities to hold the largest polluters accountable for their contribution to climate change and its devastating impacts.
What Is Eco-Anxiety? How Climate Change Is Affecting Our Mental Health. S. Baral, January, 2021, Health.com   The condition, which the American Psychological Association (APA) describes as "a chronic fear of environmental doom," is widespread. A recent poll, also conducted by the APA, found 68 percent of US adults say they have at least a little eco-anxiety—and about half of those between the ages of 18 and 34 say that their stress surrounding climate change affects their daily lives.   "This used to be a special interest issue; now it's much more common because of climate-related events," Dr. Thomas Doherty, an Oregon-based psychologist, tells Health. "This is not something far away anymore."
Climate change and its impact on mental health. Climate change has both acute and chronic mental health impacts that cover a range from light to very severe conditions. Climate change impacts on mental health disproportionately affect those most marginalised, act as a health risk amplifier and reinforce inequalities. This applies between different parts of the world, within countries, regions and between population groups. Children are vulnerable to climate change health impacts, including mental health impacts, and to promote their mental health and wellbeing it is critical to understand how children and youth perceive, handle and cope with climate change as a potential stressor. December 2020, European Parliament, Policy Department for Economic, Scientific and Quality of Life Policies.
Environmental Racism Is a Health Issue—How Experts Are Addressing It. C. Gillespie (11, 2020).  Healthy Living. 
Racism goes much further than police brutality and the criminal justice system. When systemic racism and environmental health issues merge, it's known as environmental racism—a form of racism whereby communities of color are more likely to be burdened with environmental hazards, such as toxic waste and industrial pollution. That in turn puts residents at greater risk of illnesses linked to unhealthy water, housing, and air.
"Pollution is not race neutral," Colleen Callahan, deputy director of the Luskin Center for Innovation at UCLA Luskin School of Public Affairs, tells Health. "Instead, race matters in the distribution of environmental hazards, dirty air, and polluted soil and water. Black, Indigenous, and other communities of color (BIPOC) systematically experience greater environmental hazards, and fewer quality parks and other positive environmental benefits, compared to white communities."
Children's Rights – Youth
Improving the mental health of abandoned children: Experiences from a global online intervention. American Psychologist, 75(9), Rygaard, N. P. (2020). In today's world of global migration and urbanization, millions of children are separated from parents. Their mental health and future competences as citizens depend on the quality of care from foster parents and group home staff in nonparental care settings. Caregivers are challenged by poor work conditions, too many children, and a lack of knowledge about care for traumatized children. How can our profession match this challenge by upscaling interventions?
Processes of Decolonising
The Little-Known History Behind the People of Color Who Joined the Royal Family Long Before Meghan. S. Haynes, TIME (12 March 2021). On March 7, the day before the interview aired in the U.S., historian Priya Atwal posted a Twitter thread detailing the experiences of other people of color from across the British Empire who became Queen Victoria's "godchildren" over the 1850s and 1860s, noting some of the parallels between the way they were treated by the institution and the press, and the current situation with Meghan. The thread quickly went viral, and Atwal was "blown away" by its popularity.
'Moral evil, economic good': Whitewashing the sins of colonialism., Sabelo J Ndlovu-Gatsheni, AlJazeera, 26 February 2021.
In 2017, a professor at Oxford University in the United Kingdom proposed a research project. The key thesis: that the empire as a historical phenomenon – distinct from an ideological construct – has made ethical contributions and that its legacy cannot be reduced to that of genocides, exploitations, domination and repression. Expectedly, such a project raised a lot of controversies. This month marks 136 years since the end of the Berlin Conference in 1885, where western powers met to set the rules for how they would divide up Africa. Historically, theoretically and empirically, it should be clear that the empire was a "death project" rather than an ethical force outside Europe; that war, violence and extractivism rather than any ethics defined the legacy of the empire in Africa.  But it is the continuation of revisionist thinking that beckons a revisiting of the question of colonialism and its impact on the continent from a decolonial perspective, challenging the colonial and liberal desire to rearticulate the empire as an ethical phenomenon.
See also under Education
Women / Family
Report Gives Glimpse Into Horrors of Ireland's Mother and Baby Homes. Megan Specia, NY Times (12 January 2021). A government-commissioned report released on Tuesday found a shocking number of deaths and widespread abuses at religious institutions in Ireland for unwed mothers and their children. Survivors say the document is a small step toward accountability after decades of horrors.
Ireland's proportion of unmarried mothers in homes 'was probably highest in world'. Patsy McGarry, The Irish Times (12 January 2021). Nearly 56,000 unmarried mothers were in 18 institutions over 76 years investigated by Mother and Baby Homes Commission.
Lost babies and stolen motherhood. The movie Song Without a Name tells the story from the perspective of robbed parents robbed from their newborn babies in Peru. Trafficking, both of children and adults, remains a serious problem, also in Peru. Poverty, minority groups are being exploited unwillingly and unconsciously by selling babies and bringing them abroad. "Their real mothers don't have much to offer, do they?", snaps one US senator, as if poverty should automatically disqualify one from parenthood. www.thelancet.com/child-adolescent Vol 5 March
Refugees, migration, forced migration, statelessness
French Children in Syrian Camps: the Committee on the Rights of the Child and the Jurisdictional Quagmire. The Committee on the Rights of the Child ('The Committee') has handed down two important and provocative admissibility decisions in cases concerning the repatriation of French children currently held in camps in the Syrian Arab Republic ('Syria').Despite only addressing admissibility, the Decisions are significant in a number of ways. First, they shine a light on the humanitarian crisis facing thousands of children in NE Syria and the urgent need to find a way out of the political impasse on repatriation in France and beyond. The cases will now proceed to consideration on the merits, as to whether there was a violation of articles 3(1) (best interests of the child), 6 (right to life), 20 (alternative care for child deprived of his/her family), 24 (right to health) and 37 (freedom from torture, from unlawful deprivation of liberty, right to dignity, right to legal and other appropriate assistance) of the CRC. The tone and content of the decisions have already sent a strong message in that respect (see e.g. first Decision para. 10). Second, the Decisions will generate particular attention as the Optional Protocol, allowing individual petitions to the CRC, remains young (it entered into force on 14 April 2014 and now has 46 states parties) and these are the first cases admissible against France.
Webinar registration – Annual state of play assessment on statelessness in Europe. Wednesday 24 March (11.00 – 12.00 CET)  Register your place for a free webinar organised by the European Network on Statelessness (ENS) to correspond with the publication of our annual StatelessnessINDEX state of play assessment and hear about key trends from several experts working to address the issue.  The webinar will present key new trends and data emerging from the 27 countries, including three new country profiles on Albania, Croatia, and Ireland. 2020 has seen positive steps towards new statelessness determination procedures, 1954 Convention reservations withdrawn, and measures to address barriers to birth registration. But the Index highlights that much remains to be done to bring law, policy, and practice in line with States' international obligations.
REGIONAL Human Rights NEWS
Lebanon
International Women's Day 2021 campaign theme: #ChooseToChallenge  A challenged world is an alert world. Individually, we're all responsible for our own thoughts and actions – all day, every day. We can all choose to challenge and call out gender bias and inequality. We can all choose to seek out and celebrate women's achievements. Collectively, we can all help create an inclusive world. From challenge comes change, so let's all choose to challenge.  Activities that helps you combat bias against women at work. About 50 Ways to Fight Bias
BIBLIOGRAPHY, PUBLICATIONS, MOVIES

Working with refugee families; Trauma and exile in family relationships  The field of refugee family research and intervention forms a growing field of scientific study, focussing on the refugee family as the central niche of coping with, and giving meaning to, trauma, cultural uprooting, and exile. This important new book develops an understanding of the role of refugee family relationships in post-trauma healing and provides an in-depth analysis of central clinical-therapeutic themes in refugee family psychosocial interventions. De Haene, L. & C. Rousseau (eds.) , 2020. Cambridge Academic.
CONFERENCES, EVENTS, EDUCATION and GRANTS
Mohamedou Ould Salahi: A Guantánamo detainee's fight for freedom. The Guardian Live. 23 March 2021, 9 PM CET.  In 2001, Salahi was taken from his home in Mauritania and eventually held at Guantánamo Bay for 14 years without charge. During his incarceration, he developed an unlikely friendship with an American guard, Steve Wood, who gradually became convinced of his innocence. Their unique relationship is captured in My Brother's Keeper, a BAFTA longlisted Guardian Documentary directed by Laurence Topham, which follows the reunion of the two men in Mohamedou's home city of Nouakchott, Mauritania.
Decolonizing training. https://www.eventbrite.com/e/decolonizing-psychology-training-conference-registration-142227942605
World Justice Challenge 2021 Finalists. Meet 30 Rule of Law Changemakers, Finalists for the World Justice Challenge 2021. A panel of expert judges will select five winning organizations from the pool of 30 finalists, including one for each theme. One winner will receive WJP's first-ever Ruth Bader Ginsburg Legacy Prize, and a sixth winner will be selected from the finalists through a popular vote by WJP's global rule of law network. Winners will be announced the week of May 24. Each winning organization will receive a $20,000 cash prize and opportunities for networking support from the World Justice Project throughout the year. Explore all 30 World Justice Challenge 2021 finalists below, or browse finalists by theme here.
Undergraduate and graduate students are invited to participate in the AAAS Science and Human Rights Coalition Essay Competition. Submit Essays. This essay competition was created to inspire students to explore connections between human rights and science, engineering and the health professions. Students may write on any topic at the intersection of science and/or technology with human rights. Saturday, May 1, 2021 – Friday, June 4, 2021, 12:00am – 11:59pm.
2020 winner was Mehrgol Tiv, a doctoral candidate in experimental psychology at McGill University with her essay AI for social good; How psychological researchers can contribute to the socially responsible development of artificial intelligence.
At the 32nd International Congress of Psychology (ICP2021), Prague, Czech Republic, 18-23 July 2021. https://www.icp2020.com/, several symposia, keynotes and round tables will be dedicated to human rights and psychology 
Save the Date: Announcing the 2021 Philipp Schwartz and Inspireurope Stakeholder Forum.   SAR invites you to save the date for the 2021 Philipp Schwartz and Inspireurope Stakeholder Forum, which will be held on 26 and 27 April as an online event. Convened by the Alexander von Humboldt Foundation's Philipp Schwartz Initiative in cooperation with the Scholars at Risk Germany Section and the Inspireurope project, the Forum will provide an opportunity for scholars, host institutions, funding organisations, and partners across Europe and beyond to discuss issues related to academic freedom and the situation of at-risk researchers in Europe. It will also place a particular focus on the topic of re-building interrupted research careers within and beyond academia. Invitations will be issued in March by the organisers. We hope to see many of you there.

ICP2021 VIRTUAL. Theme – Human rights, Dignity and Justice: Promotign Equity sand Justice in an Age of Uncertainty.
14TH European Public Health conference, 10 – 12 November 2021, virtual edition. Theme: Public health futures in a changing world. https://ephconference.eu/index.php