Editors Note: The GNPHR Bulletin focuses each month on a specific topic chosen in accordance with relevant UN events or UN commemorative days for that month. Because of the UN Climate change conference BOP26, for November, the special theme is Climate Change and human rights. In this section, there is a brief introduction by GNPHR Steering Committee Tony Wainwright,  followed by a list of resources on this topic.
---
SPECIAL SECTION: PSYCHOLOGY, HUMAN RIGHTS AND CLIMATE CHANGE – special section editor Tony Wainwright
CONTENT AREAS: ARTICLES AND NEWS
Climate change
Covid-19
Crimes against humanity
Decolonisation processes
Disability Rights
Human Rights Education
Inclusion, Exclusion, Racism
Mental Health and Human Rights
Migration / Refugees / Displacement / Statelessness
Peace Psychology
INTERNATIONAL HUMAN RIGHTS NEWS
REGIONAL HUMAN RIGHTS NEWS
CONFERENCES/ EVENTS
EDUCATION, CALL FOR PAPERS, GRANTS
GNPHR NEWS
Special Section: Psychology, Climate Change, and Human Rights

Introduction
Psychology, Human Rights and the Climate and Ecological Crisis  – Tony Wainwright
It is not overstating the case to say that humanity stands at a crossroads, and it is not clear which direction we are headed. The word 'crisis' comes from Greek for decision. We are at a point of decision like no other.  The twenty sixth "Conference of the Parties" (COP26) brings together governments from around the world with the aim of agreeing on a plan to reduce climate heating. This is not the only COP that has been meeting. The one on the Convention on Biological Diversity – COP15  met during October and echoes the IPCC report's Code Red warning. We are in deep trouble on both the climate heating and biodiversity loss fronts. The UN has a useful summary of the history of how human rights and climate change have been addressed in recent times.
They say:
'The first direct reference to human rights in the context of the UNFCCC was made when decision 1/CP.16(2010) referred to HRC resolution 10/4, which recognizes the adverse effects of climate change on the effective enjoyment of human rights and calls upon States to ensure respect for human rights in their climate actions. The Preamble to the Paris Agreement to the UNFCCC (1/CP.21) expands upon this language calling on States, when taking action to address climate change, to "respect, promote and consider their respective obligations on human rights".
While some psychologists have been engaged with this work, it is true to say that as a profession more generally, psychology has been slow to appreciate the scale and the challenge of climate change. This is also true of our connection with human rights. So it is no surprise that the connection between the climate crisis, human rights and psychology is at an early stage. However, in this bulletin, we have brought together some materials that address this overlapping field. Inevitably some will focus more on psychology and the climate crisis, some more on psychology and human rights. I hope that readers can make the links and connections where they are not spelled out in the materials.
GNPHR BLOG:
Climate change, our survival and the human rights of the next generation: How can we enable the children of today to cope with the challenge of tomorrow? Blog by Niels Peter Rygaard, child psychologist, CEO at FairStart Foundation , Denmark.
Special Issue: Climate and ecological emergency. Tony Wainwright & Annie Mitchell, Eds., British Psychological Society (BPS) Division of Clinical Psychology, 346, October 2021. You can read more about the climate and ecological emergency and download other material from here. (no payment required).
Psychology and the Environmental Crisis. Tony W. Wainwright, Margarida Gaspar de Matos, and Katariina Salmela-Aro. Hogrefe, July 2021. You can read what the editors say and download the issue (no payment required).
A JOINT MESSAGE FOR THE PROTECTION OF CREATION, The Holy See, 1 September 2021.  For more than a year, we have all experienced the devastating effects of a global pandemic—all of us, whether poor or wealthy, weak or strong. Some were more protected or vulnerable than others, but the rapidly-spreading infection meant that we have depended on each other in our efforts to stay safe. We realised that, in facing this worldwide calamity, no one is safe until everyone is safe, that our actions really do affect one another, and that what we do today affects what happens tomorrow.
The BPS Division of Counselling Psychology statement . 'COP26, the 2021 United Nations Climate Change Conference, is being held in Glasgow from 31 October to 12 November. As counselling psychologists, we know that the environment has a critical impact on people's physical and psychological wellbeing, and join other allied professions in supporting the delegates attending this most important of meetings.
We join our colleagues in calling for action that protects health, wellbeing, and at a minimum, the survival of current and future generations of human and other living beings. We hope that the conference goes further than setting abstract targets and leads to policy and legal structures that will facilitate explicit and tangible outcomes that lead to a low carbon society, one that is no longer reliant on fossil fuels or economic investment in them.'
The Association of Clinical Psychologists UK have issued a statement read it here. We desperately need world leaders at COP-26 to take radical and urgent action to enable a survivable planet. The severity of risks cannot be overstated.  The scale of crises and the scale of actions needed can feel overwhelming. This situation has been linked both to increased experiences of distress in relation to the climate crisis and to processes of denial and non-engagement. As clinical psychologists we are well placed to make sense of varied responses and push for meaningful change. As clinical psychologists and citizens of our planet we have a moral responsibility to engage with the threats posed.
Young People's Voices on Climate Anxiety, Government Betrayal and Moral Injury: A Global Phenomenon. Hickman, Marks, Pihkala, Clayton, Lewandowski, Mayall, Wray, Mellor and van Susteren, The Lancet, September 2021.
Climate change has significant implications for the health and futures of children and young people, yet they have little power to limit its harm, making them vulnerable to increased climate anxiety. Qualitative studies show climate anxiety is associated with perceptions of inadequate action by adults and governments, feelings of betrayal, abandonment and moral injury. This study offers the first large-scale investigation of climate anxiety in children and young people globally and its relationship to government response
Four in 10 young people fear having children due to climate crisis. Fiona Harvey, The Guardian, 14 Sep 2021, The Guardian.
Global survey finds most 16-25 year olds worry a lot about the future, and many feel failed by governments. Caroline Hickman, from the University of Bath, Climate Psychology Alliance and co-lead author on the study, said: "This study paints a horrific picture of widespread climate anxiety in our children and young people. It suggests for the first time that high levels of psychological distress in youth is linked to government inaction. Our children's anxiety is a completely rational reaction given the inadequate responses to climate change they are seeing from governments. What more do governments need to hear to take action?"
How to Fight the Poison of Environmental Racism. Margaret Renkl, NY Times, August 16, 2021. — Something wonderful happened in Memphis last month: Community organizers in the city managed to stop a crude-oil pipeline from running beneath the historic neighbourhood of Boxtown, as well as several other predominantly Black communities along its projected 45-mile route.
Climate change will have "profound adverse mental health implications" for those living in South Africa. Centre for environmental rights, South Africa, 7 September 2021.
A new report by community psychology expert, Dr Garret Barnwell, shows that climate change harms are already negatively impacting our mental well-being and these effects will only accelerate in the future, placing today's youth and future generations in harm's way.
The findings of the report, commissioned by the Centre for Environmental Rights (CER) are clear: climate change poses a severe threat to the mental health and well-being of present and future generations – and people living in South Africa are particularly vulnerable to these effects.
"It is extraordinarily difficult for the majority of South Africans to adapt to the advancing climate shocks, such as climate change-exacerbated disasters, water insecurity and economic losses. The same social conditions that make individuals and communities more vulnerable to climate change, are the same that put people at higher risk of mental illness and psychological adversities," Barnwell explains.
Addressing the global emergencies of climate and human rights from below: A View from the Pedagogy of Development Ethics and International Social Work. Su-ming Khoo and Tanja Kleibl, Irish Studies in International Affairs, Vol.31, 2020, Royal Irish Academy. Access from JSTOR
Acknowledging that the climate emergency is a transdisciplinary challenge that changes everything, this paper offers reflections on teaching and research, attending to the public and students' demands, witnessed at a global climate protest—'to not remain as bystanders, but join in action!'
Why are we asking a teenager how to solve the climate crisis? NY Times, October 2021.
On Tuesday, evidence of what Thunberg calls the "political and economic failure" to adequately address climate change was on full display when the United Nations released its annual report detailing "the difference between where greenhouse emissions are predicted to be in 2030 and where they should be to avert the worst impacts of climate change."
The report paints a bleak picture of missed targets and pledges that don't go far enough.
In this short film by Norma V. Toraya and Jared P. Scott, Thunberg criticizes the presidents, prime ministers, kings and queens attempting to wield her image for their own political gain.
The animated video offers a unique window into the life of the 18-year-old Swedish activist.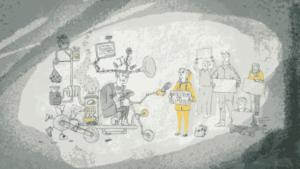 Human Rights Attorney Sentenced to Prison After Winning Case Against Chevron. Marjorie Cohn, Truthout, 5 October 2021. Part of the Series Human Rights and Global Wrongs. In a move calculated to shield Chevron and deter other lawyers from suing giant corporate polluters, U.S. human rights attorney Steven Donziger was sentenced on October 1 to the maximum of six months in prison for criminal contempt. Donziger, who had won a $9.5 billion judgement for his Indigenous clients against the oil giant for polluting the Amazon rainforest in Ecuador, refused to provide Chevron with his confidential client communications. Before his sentencing, Donziger spent two years on house arrest wearing an ankle bracelet and confined to his home.
CONTENT AREAS: ARTICLES AND NEWS
Covid-19
The pandemic has taken a devastating toll on the physical health of millions of people. But the mental-health effects could prove even more enduring. A new study published in the Lancet, a medical journal, attempts to quantify the impact of covid-19 on mental health and wellbeing around the world. The authors estimate that cases of depression rose by 53m globally as a consequence of the pandemic, 28% above pre-pandemic levels; cases of anxiety increased by 76m, a 26% rise.
Crimes against humanity
For First Time in Public, a Detainee Describes Torture at C.I.A. Black Sites. Carol Rosenberg, 28 October 2021, NY Times. In a sentencing hearing, Majid Khan, a Pakistani who lived in suburban Baltimore before joining Al Qaeda, detailed dungeonlike conditions and episodes of abuse. Appearing in open court, Majid Khan, 41, became the first former prisoner of the black sites to openly describe, anywhere, the violent and cruel "enhanced interrogation techniques" that agents used to extract information and confessions from terrorism suspects.
Decolonisation processes
Decolonization toolkit
The Chief Diversity Officer team is developing a Perspectives/Decolonization toolkit for the community of the University of Amsterdam, based on a wide variety of research and input, a work-in-progress.
Decolonizing University Teaching and Learning. An Entry Model for Grappling with Complexities. Tran, D., Ed. (2021) . Bloomsbury Publishing.
Drawing on Critical Race Theory, the book highlights the benefits of decolonizing teaching and learning for all students and staff. This book offers up the TRAAC model* as an entry point for challenging conversations.
The UGlobe Decolonisation Group, Utrecht University, Centre for Global Challenges, Retrieved October 7, 2021. Rolando Vázquez et al.
Decolonisation as an academic method. Historical explanations as well as theories in International Relations (IR) and law are often developed based on European practices or rooted in European experiences of the imperial age, which requires us to reflect on non-Western conceptions of law and IR. Moreover, efforts to rethink decolonisation in academia and society have been uneven. While European and American academia has embraced global perspectives there is an increased dissatisfaction in Africa and Asia with the 'failed decolonisation' of academia. The Decolonisation Group therefore sets out to explore what decolonisation and globalisation actually mean for scholarly methodologies and approaches. Our approach to decolonisation is open in that rather than favouring one interpretation, we strive towards an integrated approach in which different definitions are engaged in order  to chart more productive courses of research.
'The term decolonization (just like the postcolonial) denotes not so much the moment when the formal power relations of empire ceased to be, but the long process of reorientation and change. But how large and broad exactly?'
An effort to decolonise culture and society was at the heart of the work of liberationist thinkers, such as Frantz Fanon and Aimé Cesaire, a challenge that has been picked up recently by intellectuals such as Dipesh Chakrabarty, Achille Mbembe and Barry Buzan. In this group we seek to gauge the meaning an transformative potential of concepts such as 'decolonization' or 'decoloniality' while actively engaging the work of intellectuals in areas of the world that have experienced colonialism.
What Should I Do With My Portrait of a Slaveholding Ancestor? Kwame Anthony Appiah, September 28, 2021 NY Times. My family's ancestors, the Bibbs, were key figures in the establishment of Alabama. My great-uncle was its territorial governor, appointed by James Monroe, and was elected to the governorship when Alabama entered the union. These ancestors had plantations and owned slaves.
I possess a large, elegant portrait of this slaveholding governor, William Wyatt Bibb (1781-1820). This portrait held a place of honor in my childhood home and hangs over the mantel in my living room. I even named one of my sons Wyatt in the governor's honor. Formerly, I did not give much thought to the Bibb family's role in the institution of slavery. Now I have, and I have misgivings about displaying a portrait of a problematic ancestor.
Your story reminds me that one of my given names, Akroma-Ampim, connects me with an illustrious 18th-century ancestor of my own — an Asante general who, in what is now Ghana, took his share of war captives. Some were remanded to forced labor on farming settlements; others, quite possibly, were sold into the trans-Atlantic slave trade. If I had a portrait of Akroma-Ampim to display, I would tell people what I know of him, including his role within a culture and economy of slaving.
In the tribunal of posterity, what were matters of pride regularly become sources of shame. We can actually find consolation in this: It suggests that some moral advances may have accompanied the obvious technological ones. It also suggests that we should give thought to what our progeny will make of us.
Love letters to Palestine: In search of decolonial justice. Attalah, Andoni and Masud, 25 September 2021, Middle East Eye. Three Palestinian mental health workers and psychologists solicited letters of mass love for Palestine in the face of Israel's colonial conquest.
New Books and Documentary:


Decolonizing University Teaching and Learning. An Entry Model for Grappling with Complexities. Tran, D., Ed. (2021), Bloomsbury Publishing. Drawing on Critical Race Theory, the book highlights the benefits of decolonizing teaching and learning for all students and staff. This book offers up the TRAAC model* as an entry point for challenging conversations. *TRAAC model: Teaching, Relationship, Activity and Assessment, and Content.

Decoloniality and Epistemic Justice in Contemporary Community Psychology. Stevens, Garth, Sonn, Christopher (Eds.) 2021, Springer. Examines the ways in which decolonial theory influences knowledge production, praxis and epistemic justice in global contemporary iterations of community psychology.
This book examines the ways in which decolonial theory has gained traction and influenced knowledge production, praxis and epistemic justice in various contemporary iterations of community psychology across the globe. With a notable Southern focus (although not exclusively so), the volume critically interrogates the biases in Western modernist thought in relation to community psychology, and to illuminate and consolidate current epistemic alternatives that contribute to the possibilities of emancipatory futures within community psychology. To this end, the volume includes contributions from community psychology theory and praxis across the globe that speak to standpoint approaches (e.g. critical race studies, queer theory, indigenous epistemologies) in which the experiences of the majority of the global population are more accurately reflected, address key social issues such as the on-going racialization of the globe, gender, class, poverty, xenophobia, sexuality, violence, diasporas, migrancy, environmental degradation, and transnationalism/globalisation, and embrace forms of knowledge production that involve the co-construction of new knowledges across the traditional binary of knowledge producers and consumers. This book is an engaging resource for scholars, researchers, practitioners, activists and advanced postgraduate students who are currently working within community psychology and cognate sub-disciplines within psychology more broadly. A secondary readership is those working in development studies, political science, community development and broader cognate disciplines within the social sciences, arts, and humanities.
We Carry It Within Us – fragments of a shared colonial past. Documentary Duration: 1 hour 7 minutes Availability: Worldwide. Watch trailer
The documentary 'We Carry It Within Us' investigates collective memory and different perspectives on the shared colonial past between Denmark and the current US Virgin Islands. Which events and individuals are remembered, and how is history narrated?
Disabilities Rights
Woman with Down's syndrome loses UK abortion law case. Alexandra Topping and agencies, 23 September 2021, The Guardian.
Heidi Crowter has argued allowing terminations up to birth if foetus has Down's syndrome is discriminatory and stigmatises disabled people.
Mental health, legal capacity, and human rights. Eds: Stein, Mahomed, Patel and Sunkel, September 2021, Cambridge University Press.  Since adoption of the Convention on the Rights of Persons with Disabilities and the interpretive General Comment 1, the topic of legal capacity in mental health settings has generated considerable debate in disciplines ranging from law and psychiatry to public health and public policy. With over 180 countries having ratified the Convention, the shifts required in law and clinical practice need to be informed by interdisciplinary and contextually relevant research as well as the views of stakeholders.
Human Rights Education
Human Rights and Higher Education. A book panel including Felisa Tibbitts and co-editor Dr. Andre Keet took place virtually on 23 September. Their forthcoming Routledge book "Emancipatory Human Rights and the University" addresses the theory and practice of human rights in higher education. The book panel was part of both the 40th Anniversary of SIM as well as the 100th Anniversary of the Soroptimists. The event was recorded and is available online.
Building a climate for advocacy training in professional psychology. Alexander & Allo. The Counseling Psychologist, 49(7), 1070–1089, 2021. APA PsycInfo. Counseling psychologists have been at the forefront of social justice and advocacy efforts in the discipline of psychology. Despite these foci, few graduate training programs in psychology offer formal courses or training in advocacy, social justice, and public policy. To develop and fill a pipeline of professionals involved in social justice and advocacy efforts, graduate training programs in psychology must expose and prepare students to these areas. The purpose of the current paper is to describe how faculty within the professional psychology program at the University of Denver incorporate advocacy, public policy, and social justice education and training into their program. We describe how the program climate and curriculum were created to meet these training needs.
Inclusion, Exclusion, Racism
APA APOLOGIZES FOR LONGSTANDING CONTRIBUTIONS TO SYSTEMIC RACISM.
Acknowledges failures, accepts responsibility, pledges change for psychology. 28 October 2021.
As part of the nation's historic reckoning on racism, the American Psychological Association has apologized to communities of color for its role – and the role of the discipline of psychology – in contributing to systemic racism.
The association's governing Council of Representatives adopted an apology at its meeting Oct. 29, acknowledging that APA "failed in its role leading the discipline of psychology, was complicit in contributing to systemic inequities, and hurt many through racism, racial discrimination, and denigration of communities of color, thereby falling short on its mission to benefit society and improve lives."
A court just confirmed: To be Dutch is to be white. Sinan Çankaya, AlJAZEERA. 29 September 2021.
Mpanzu Bamenga lost a legal case at The Hague District court, Netherlands, September 22, 2021. A Dutch court ruled that border police can use ethnicity as one of the criteria for selecting people for checks at the border, a legal defeat equal rights activists immediately vowed to appeal. 'Please come with me, sir.' That is what Mpanzu Bamenga, a city councillor and academic with a Dutch passport, heard soon after arriving at the airport of his hometown following a short work visit to Italy where he 8. 'Ethnicity does not have to be an objective indication of nationality, but it could be,' the judge ruled. Ethnicity cannot be the only criteria for singling out passengers for extra checks, the court said, but it could certainly be one criterion among others. With this ruling, the court has lumped together skin colour and nationality – it cemented the idea that to be Dutch is to be white. Of course, this was something racialised Dutch people already knew, but the court ruling made it official.
Bamenga was in Italy to give a lecture on the meaning of liberty. Perhaps Dutch courts and other institutions should spare a few hours to listen to what he has to say, to make sure that meaning is not lost in his own country.
Xenophobic machines: Discrimination through unregulated use of algorithms in the Dutch childcare benefits scandal. Amnesty International, October 25, 2021 Index Number: EUR 35/4686/2021. Social security enforcement agencies worldwide are increasingly automating their processes in the hope of detecting fraud. The Netherlands is at the forefront of this development. The Dutch tax authorities adopted an algorithmic decision-making system to create risk profiles of individuals applying for childcare benefits in order to detect inaccurate and potentially fraudulent applications at an early stage. Nationality was one of the risk factors used by the tax authorities to assess the risk of inaccuracy and/or fraud in the applications submitted. This report illustrates how the use of individuals' nationality resulted in discrimination as well as racial profiling. To read the whole report
Mental Health and Human Rights
Watch back the RECOVER-E Webinar on Human Rights and Peer Workers! The RECOVER-E project launched a successful webinar on the 14th of October in which a diverse set of topics about peer workers was discussed. The first session covered among other things Human Rights, equality, equity, and lived experience in mental health (care). The second session focused on personal stories from peer workers and professionals about working in a community mental health team, challenges and opportunities, and how the work will be sustained after the project ends. Speakers: Laura Shields-Zeeman, Nora Sveaass, Polli Hagenaars, Jan Wise, Guadalupe Morales, Aleksandar Tomcuk, Zana Sevo, Valentin Valtchev, Stojan Bajraktarov, Milana Zarkovic, and Vladimir Nakov. Moderators: Felix Bolinski and Nina Bos.
#WithdrawOviedo
In 2014, the Council of Europe and its Committee of Bioethics (DH-BIO) started to work on the legislation to regulate involuntary treatment and placement in psychiatry – the so-called "draft additional protocol to the Oviedo Convention". The Oviedo Convention is the only international legally binding instrument on the protection of human rights in the biomedical field.
Organisations representing users and survivors of psychiatry, people with lived experience and persons with disabilities, as well as United Nations experts and internal bodies of the Council have all strongly criticised the DH-BIO's work on the Additional Protocol and urged to withdraw the draft.
Despite the opposition, member states of the Council of Europe have continued to support the work on this draft protocol, ignoring their obligations under international law. A final draft has been approved and will be put for a vote in June 2021 within the Committee of Bioethics, for final adoption at the end of 2021 or early 2022.
Migration / Refugees / Displacement / Statelessness
Forced displacement: Humanitarian crisis, development challenge. The World Bank,  October 15, 2021. A surge in violent conflict since 2010 has led to historically high levels of forced displacement. Globally, there are 82.4 million forcibly displaced people including refugees, internally displaced persons and asylum seekers who have fled their homes to escape violence, conflict and persecution (UNHCR, Global Trends: Forced Displacement in 2020).
The hardships they endure through their displacement make these people vulnerable. They  lose assets and livelihoods, and are unable to plan their future. Many suffer from trauma, and women and girls are at high risk of gender-based violence. They need help to regain their agency and begin rebuilding their lives.
Special Issue: Migration and Health. Translation to action. Lin & Hall, Applied psychology, health and well-being, Volume 13, Issue 3, August 2021, Pages: 485-711. IAAP< Wiley Online.
Peace Psychology
Peace and Human Rights. HREA Webinar, International Day of Peace, September 2021.
To celebrate International Day of Peace, HREA held a webinar – Peace & Human Rights: Empowering Vulnerable Populations for Social Justice, featuring two esteemed guest speakers who work for peace and human rights in different areas. With Dr. Alicia Cabezudo: Professor Emeritus at the School of Education University of Rosario/Argentina and the UNESCO CHAIR on Culture of Peace and Human Rights of the National University of Buenos Aires/Argentina; and Ms. Mary Kangethe: Director of the Education Program for the Kenya National Commission for UNESCO. Former Officer in the Ministry of Education at the local and national level. Served as the National Coordinator for Peace Education at the Ministry of Education. To watch on YouTube
INTERNATIONAL HUMAN RIGHTS NEWS
Rohingya refugees restore depleted forest in Bangladesh, UNHCR
Four years after swathes of forest in southern Bangladesh were cleared to make way for Rohingya refugees, projects to restore the ecosystem and "re-green" the camps are yielding results. Regina De La Portilla in Cox's Bazar, Bangladesh, 3 November 2021.
Mohammed Ali, 28, is a Rohingya refugee who has been working as a plantation guardian for the past three years, helping to green the world's biggest refugee camp.  His tasks include watering and caring for seedlings, replanting trees ripped out by landslides, and raising awareness in his community about the need to protect the forests in this lush corner of southern Bangladesh.
The sprawling, densely populated camp is home to some 900,000 refugees, the majority of whom arrived in 2017 after fleeing violence and human rights abuses in Myanmar. In response to the influx over a period of just a few months, the Bangladeshi government allocated a 2,500-hectare sweep of protected forest to expand an existing settlement.
Vegetation was cleared to make way for shelters and infrastructure. Lacking alternative cooking fuels, refugees cut many of the remaining trees for firewood. What had been a sanctuary for wildlife, including endangered Asian elephants, quickly became a bare, hilly tract of bamboo and plastic-roofed shelters that was prone to flooding and landslides in the monsoon season.
REGIONAL HUMAN RIGHTS NEWS
Europe
#RightsForum21 – Where do we go from here? Two days of stimulating discussions, over 145 different sessions, 6 locations – that was the Fundamental Rights Forum 2021 in a nutshell. With over 3,000 people joining the Forum in Vienna and online, it was the biggest human rights event in Europe this year.
Picture 8
CONFERENCES/ EVENTS
December 9, 2021:
Scholars at Risk Network. Free to Think 2021 and Courage to Think Award. Thursday, Dec 09 2021 12:00 am. SAR invites members and the general public to save Thursday, December 9 for the release of Free to Think 2021, the annual report of SAR's Academic Freedom Monitoring Project. The virtual symposium will bring together experts for conversation about key issues in the report, and a presentation of SAR's annual Courage to Think award. 
EDUCATION, CALL FOR PAPERS, GRANTS
Calling all students, educators, trainers, community activists, and anyone who wishes to learn more!  On the 10th anniversary of its founding, HRE USA is launching a new 2021-22 Training As Action Series (TAAS) focused on bridging the personal and collective on some of the most critical human rights issues of today. Participants will leave each session of the training series with a renewed energy and the practical tools necessary to facilitate conversations and promote collective action with students and community members writ large.
The TAAS will feature a scaffolded three-tier training model. Each tier builds upon the next in terms of depth, participation, and engagement. Participants are welcome to register for Tier 1 only, Tier 1 and 2, or all three tiers as they are interested.
Tier 2 (4 modules, Oct/Nov) will engage HRE USA members in interactive human rights training on urgent topic areas in ways that are applicable to their personal, collective, and professional contexts.
Monday, October 18 – Monday, October 25 – Monday, November 1 – Monday, November 8 – 7:00-9:00 pm ET + 2 optional Saturday sessions: Oct 30 and Nov. 6 – 11:00 am-1:00 pm ET
Tier 3 (2 modules, Dec/Jan) will develop the HRE USA Training Corps focused on improving, planning, and implementing ongoing community building and training efforts.
Monday, December 6 – 7:00-9:00 pm ET – Monday, January 10 – 7:00-9:00 pm ET
For more information: https://hreusa.org/events/workshops-webinars/
Registration Link: https://www.surveymonkey.com/r/MWTC7DC
Peace Education and Action for Impact is a new programme launched by World BEYOND War in collaboration with the Rotary Action Group for Peace. Part I takes place September 6 – October 16, and Part II October 17 – December 10, 2021.
There are more young people in the world today than ever before. Of the 7.3 billion people across the globe, 1.8 billion are between the ages of 10 and 24. This generation is the largest and fastest growing demographic on the planet. When it comes to building sustainable peace and development, we need the meaningful participation of all generations. However, although increasing numbers of young people around the world are striving for peace and related areas of progress, far too many young people find themselves routinely excluded from peace and security decision-making processes that affect them and their communities. With this in mind, equipping young people with the tools, networks, and support to build and sustain peace is one of the largest, most global and important challenges facing humanity.
GNPHR NEWS
Invitation to Share Real-Life Examples and Narratives
GNPHR colleagues and readers of the GNPHR Bulletin are invited!  We often hear your question: How can I contribute to the GNPHR? One of the best ways to learn about the intersection of psychology and human rights is to have some real-life examples.
So, we are inviting you to share your narratives and stories that describe your encounters with human rights issues in your professional life. You might describe an event that led you to ask questions about the role of human rights, or a time when you protected (or failed to protect) human rights, or advocated for what you saw as a human rights issue. The events might be in your clinical, research, academic, applied, or volunteer work.
We will compile these examples to help us all better understand how human rights issues can affect different aspects of our professional work. The best length is to stay under 1000 words. You can send your narrative / story (between approximately 600-1000 words) to Marlena Plavšić, marlena_plavsic@hotmail.com
Special Issue Call for Papers International Journal of Psychology (IJP is the official journal of IUPsyS – the global umbrella organization for psychology)
Psychology and Human Rights
The United Nations Declaration of Human Rights was published in 1948, 3 years after the end of a war that brought the world to the brink of destruction. This Special Issue aims to showcase recent theoretical, methodological, empirical and practical advances in the psychology of human rights. Specifically, we are looking for articles that evaluate conceptual models and applications of psychology and human rights (including evidence-based practices) that have been implemented in different contexts, and new directions in research.  Topics may include, but are not limited to: the human rights of indigenous peoples, human rights in legal, mental health, penal and/or detention systems, human rights in national security and defense, military and civic behaviour, and displaced populations. Papers on the relationship between psychology, climate change and human rights are particularly encouraged. We are conscious that different cultures interpret human rights in different ways and hope that the issue will reflect this fact and draw attention to the impact of past colonialization, as well as new structures enabling the bearers of human rights and the states which have a duty to protect those rights to flourish. Papers from all disciplines within psychology are welcome.
Submission: Please email an abstract (no more than 500 words) for your proposed submission by January 1, 2022, to the Special Issue Editor, Derek Indoe (derek.indoe@gmail.com). Abstracts will be reviewed by the editor, and potential contributors will be selected based on the originality and rigor of the work, the overall diversity of topics, and the fit to the general theme of the Special Issue. Authors who are selected to develop full manuscripts will be notified within one month and will be given three months to submit their full manuscripts. Full manuscripts will follow the IJP submission guidelines and review process.  For further information concerning the Special Issue, please contact Derek Indoe by email. For information concerning the International Journal of Psychology, visit the website at https://onlinelibrary.wiley.com/journal/1464066x or contact the Editor-in-Chief, Abigail Gewirtz at agewirtz@umn.edu.
Global Network of Psychologists for Human Rights at the Fundamental Rights Forum
On 12th October Tony Wainwright, Polli Hagenaars and Marlena Plavšić held the session PROMOTING HUMAN RIGHTS & PREVENTING THEIR VIOLATIONS: THE ROLE OF PSYCHOLOGISTS on the Fundamental Rights Forum. They presented the GNPHR and invited colleagues to subscribe and contribute with topics, blogs, stories etc. In the discussion that followed, the audience suggested what role psychologists should take in addressing particular cases of human rights violations: 'Protection, awareness raising' 'Educate, protect, advocate. Recognize that in most cases mental problems are result of discrimination and other rights violations.' 'Enhance empathy in perpetrators of violence or to change the attitudes of those with discriminatory behaviour. In terms of education, listen more to students and take their mental health more seriously.' 'Expertise and advocacy – help in relief and dissemination of information about suffering that would otherwise be unseen.'
GNPHR invites you to contribute to the blog series!! Blog-Opinion pieces can be on general human rights issues; human rights education or strategies for raising the profile of human rights within one's institution or professional life. Students are welcome to submit a blog on human rights issues/topics from the perspective of students, including on student needs for learning about and addressing human rights. Please contact the GNPHR Blog editor (blogeditor@humanrightspsychology.org) with ideas for the blog  you would like to write!
GNPHR invites you to send articles/news/events about relevant human rights issues or activities for publication in the Bulletin, especially for next Bulletin's highlights:  in December around the CRPD.
CONTACTS: Published by the Global Network of Psychologists for Human Rights – www.humanrightspsychology.org
Disclaimer: The website of the Global Network of Psychologists for Human Rights (GNPHR) contains articles, events and news about the domain where psychology and human rights intersect. The information presented in this Bulletin, does not imply that the GNPHR shares the views and beliefs in the articles.